Mary Ellen O'Brien
Physical Therapist

Trigger Point Dry Needling (TPDN)

McKenzie Mechanical Diagnosis and Therapy - MDT
Vestibular Diagnosis and Treatment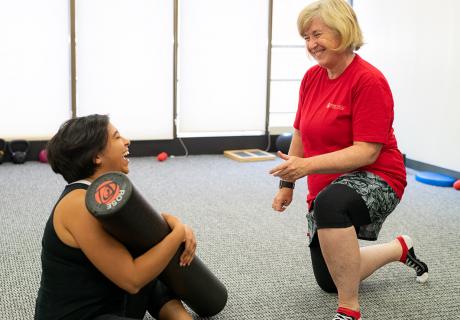 I'm Mary Ellen and I'm a physical therapist here at Rose. 
As a former field hockey, basketball and softball player, I thought my competitive sporting days were long over, once I became a "grown up".  Years went by with me continuing to exercise in a very individual way, when I discovered the sport of dragon boating in mid-life.
"Dragon what?" is the usual response I hear when I mention my hobby. Picture a narrow 40 foot long boat with 10 rows of 2 paddlers each, with a steersperson in the back and a drummer in the front. Dragon boating is the epitome of a team sport because the whole crew needs to be working in sync during races. The effecient paddling stroke has about 40 different aspets to consider. What a gift to discover that my love of team sports was not a thing of the past!   Fast forward to several years later, and here was my Senior B team on the podium getting our gold medals at Nationals, qualifying us to compete in the World Club Crew Championships in Ravenna Italy!  This amazing journey reminded me of how being part of a team is such a gift for so many reasons.  Being part of a special group of people is one of the factors that drew me to Rose PT. 
What really "floats my boat" in my work is the process of making that unique one on one connection with a client, discovering what motivates that individual to improve their quality of life, whether that be on the field, in the water, at work, or at play. I moved to DC from Vermont, and hail originally from Boston, where I got my degree in PT from Simmons College. I have practiced PT in a number of settings, most recently in a hospital-based out patient clinic specializing in clients with neurological, concussion and vestibular issues related to balance. 
When I am not at Rose, I can be found exploring DC, my Navy Yard neighborhood, going to Nats games, enjoying live music, and spending time with friends and family...and of course dragon boating on the Potomac River!