Zoe Pond-McPherson
Physical Therapist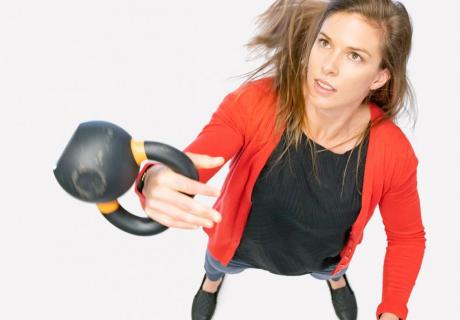 I have been an athlete my entire life, beginning gymnastics as 3-year-old and continuing on to compete throughout most of high school before joining the division III lacrosse team in college. After college I thought I wanted to work in finance, and accepted a position at an investment consulting firm. This was the first time in my life I found myself sitting at a desk and doing down dog in my cubicle to move throughout the day. I realized I needed to find a new career, one that allowed me to interact with people and share my love of movement.
After shadowing at physical therapy clinics around the District, I ultimately made the decision to quit my desk job and become a physical therapist. At that same time my husband got a job in Manila, Philippines, which gave me an opportunity to coach and compete in CrossFit abroad while I applied to physical therapy schools.
I found Rose as a patient, after seeing two other therapists who told me I had to stop squatting altogether, an option that was not feasible nor realistic for me. My therapist was dedicated to finding the root cause of the pain which allowed me to avoid surgery and continue competing, including a 7th place team finish at the CrossFit Games. The one on one, patient centered care ultimately drove me to join the Rose team.
My background as a gymnast and CrossFitter, two sports where urinary incontinence is not uncommon, coupled with my career as a physical therapist led to many discussions of pelvic pain and dysfunction. I found that the more I talked about it, the more people were willing to share, and how impactful the dysfunction has been on their lives. I switched from a solely sports focused therapist to incorporating pelvic physical therapy because it resonated with my initial draw to profession, to help people keep moving and enjoying life.
 I'm originally from California, thought I've considered D.C. home for about a decade. I attended Bryn Mawr College in Pennsylvania where I received a bachelor's degree in math, and graduated with my doctorate in physical therapy from The George Washington University. In my spare time, I love going on hikes with my husband and our two dogs, Xena and Conan, doing fitness with my friends, and continuing to explore D.C.