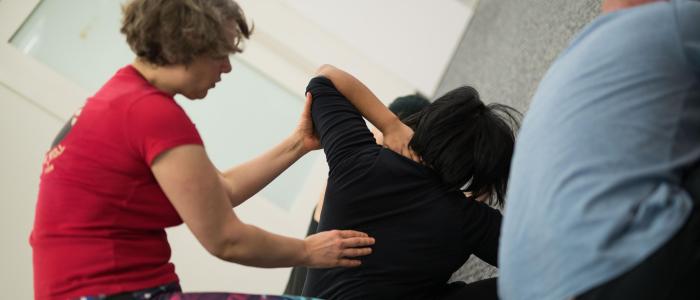 Ergonomic Assessment - OSHA
Rose therapists often discuss the general ergonomics of your daily environment in evaluation of any condition. Ergonomics is the practice of designing equipment and work tasks to conform to the capacity of the worker. It provides a means of adjusting the work environment and work practices to prevent injuries before they occur. We work hard and play hard here in the DMV, so our ergonomics really matters to all of us.
However, this section is directed at a more specific analysis where Rose therapists take a deeper look at your ergonomics by considering the relationship between the worker, the actions or tasks inherent to an activity (such as your job, school, or athletics), and the environment in which the work is performed. When there is a mismatch between the physical requirements of the job and the physical capacity of the client, this can lead to discomfort or injury. This evaluation can be highly specific for a single client and may include on-site assessment of the client's environment. We also offer seminars, for a more economical and general training of larger groups of people or businesses.
The assessment is performed by a licensed physical therapist or physical therapist who performs the following:
Suggests options for solving ergonomic safety issues
Assists in establishing or improving work- site injury and illness prevention programs
Helps employers identify hazards in the workplace
Works with employers to identify and develop health and training for employees
Provides employers with written reports to summarize findings
Environmental factors can often be accommodated to a client's temporary or long-term limitations. The ergonomic assessment may involve both remediation or prevention of further injury. On-the-job injuries are often costly to employees, employers, and insurers. Activities to promote prevention may represent a sound investment.
Common Areas for evaluation include
Work site analysis
Desk height
Chair design
Location of computer station
Effectiveness of work area
Incorporation of pacing techniques to reduce incidence of work-related injuries
Prescription for adapted aids
Common Musculokeletal Disorders caused by poor ergonomic environment
Carpel Tunnel Syndrome
Trigger finger
Tendonitis
Back/neck pain
Upon completion of an ergonomic assessment, a report is generated that includes
Positive aspects of the job
Risk factors of the job
Risk modification or control
Management solutions
Exercise programs
Training and education programs to promote safety and increase productivity