Thursday's at 3pm every week during my lead up to the Ironman World Championship in 2017 were reserved for physical therapy. At my sessions at Rose in Southeast DC near Navy Yard or Northwest DC at Farragut Square, I worked with Claire on neck and shoulder mobility, some dry needling, some stretching and a reminder to do my own mobility work everyday. Over the course of the sessions, my shoulder mobility improved and this helped eliminate my discomfort during long swims. I was optimistic that the improvement would hold as I started increasing my volume during 2018.
But as my volume increased in the early months of 2018, my shoulder was returned to the same injured state it had been in during 2017. After a new bike fit and some focused swim technique practice there were improvements, but was still struggling to return to full health under my training load.
I decided to race the Kinetic 70.3 Half distance Triathlon in May with Claire spectating. Rose Physical Therapy typically supports District Multisport and DC Tri Club at Kinetic triathlons, so it's always great to see Claire and other therapists and team members from our Rose team out at Lake Anna. I was racing my heart out for an overall podium spot and the run course allowed me to pass by Claire multiple times during the half marathon run. She noticed something wrong.
The following week while Claire worked on my shoulder, she mentioned that she noticed I was breathing heavily through my mouth and shrugging my shoulders to my ears while looking very tense during the half marathon run. She had recently started using a nose dilator from Rhinomed to help widen the airway and increase nasal breathing.  She recommended I try it and a week later left one on my desk.
I was hesitant to try it. Unlike nose strips that look like a band aid on the bridge of your nose, this nasal dilator forces nasal passages open from the inside of the nose. And even setting aside the awkwardness of applying the nasal dilator in front of my training partners, I was skeptical that it would make a big difference.
After carrying it around for a week I decided to try it. I instantly noticed a difference. 
I first tried the Mute version, made for improving sleep. During recovery rides and runs I noticed that my heartrate was lower. So I decided to try wearing it for some higher intensity workouts. I wore it to the track and for best-effort intervals on the bike. I was running and biking faster,  maybe it was my training paying off.  I wore it for a couple of weeks and reported my observations and data to Claire.  She then left me a Turbine nasal dilator, the sport version of the nasal dilator that has a little more flexibility. I've been wearing it for all bike and run workouts and during races since. 
The most notable improvement is no more pain in my shoulder. The nasal dilators allow me to relax my muscles and focus my breathing patterns, reducing the amount of shoulder tension. With the training and racing load for Ironman events, small changes can make a big difference—the longer the training or event, the bigger the difference. For me, getting control over my breathing improved both my training and racing.
Claire noticed that I was using accessory muscles to breathe. Accessory muscles are muscles of the shoulders and chest that assist with breathing but should not be doing all the work. For many people, myself included, those accessory muscles can take over and become overworked. Hence my shoulder pain. This is a common problem, not just with athletes. It is common for people with desk jobs to experience difficulty using accessory muscles for breathing. This is because sitting, especially in a slouched position, inhibits the diaphragm.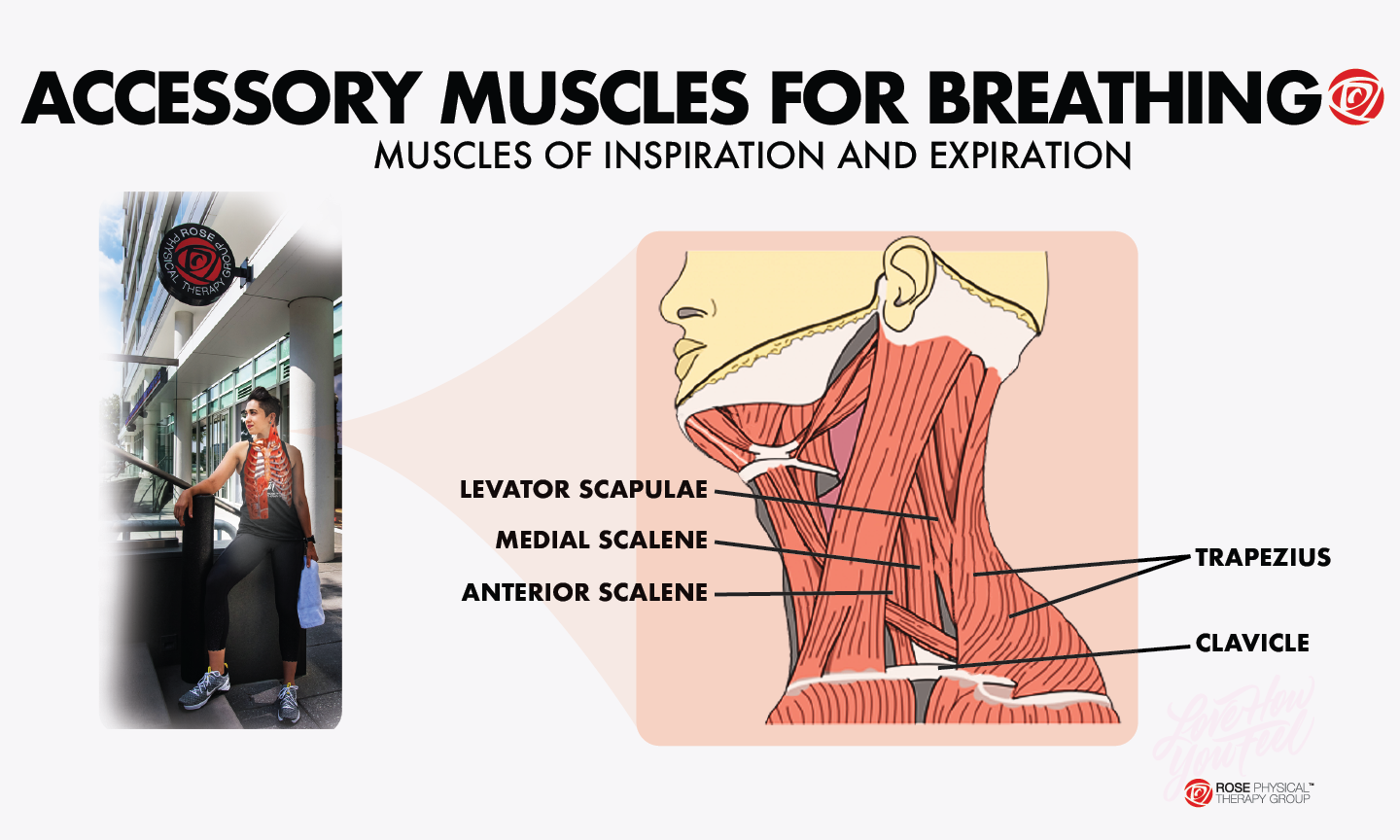 At Rose we see lots of folks with neck and shoulder issues and breathing using accessory muscles plays a big part. What do we do to treat the breathing issues? The Rhinomed is one part of the solution, but there are many others.
A few things we instruct our clients on here at Rose Physical Therapy include teaching diaphragmatic breathing or meditation breathing, retraining shoulder muscles for relaxation, and posture correction and ergonomics. Whether considering our location near the Navy Yard metro stop in the Capitol Riverfront or our office in downtown Washington, DC near Dupont Circle and Farragut Square, we can help you work through issues with breathing.