Long before I entered the world of outpatient orthopedic physical therapy here in Washington, DC, I learned firsthand about the relationship between a tight thoracic spine and low back pain.
While training and competing as a dragon boat paddler, I had begun working as a physical therapist in the acute rehabilitation setting inside a hospital where heavy lifting of patients, unpredictable patient movements and catching patients during balance losses was the norm. I noted an increase in "twinges" in my low back, and what now I know are warning signs of low back injury.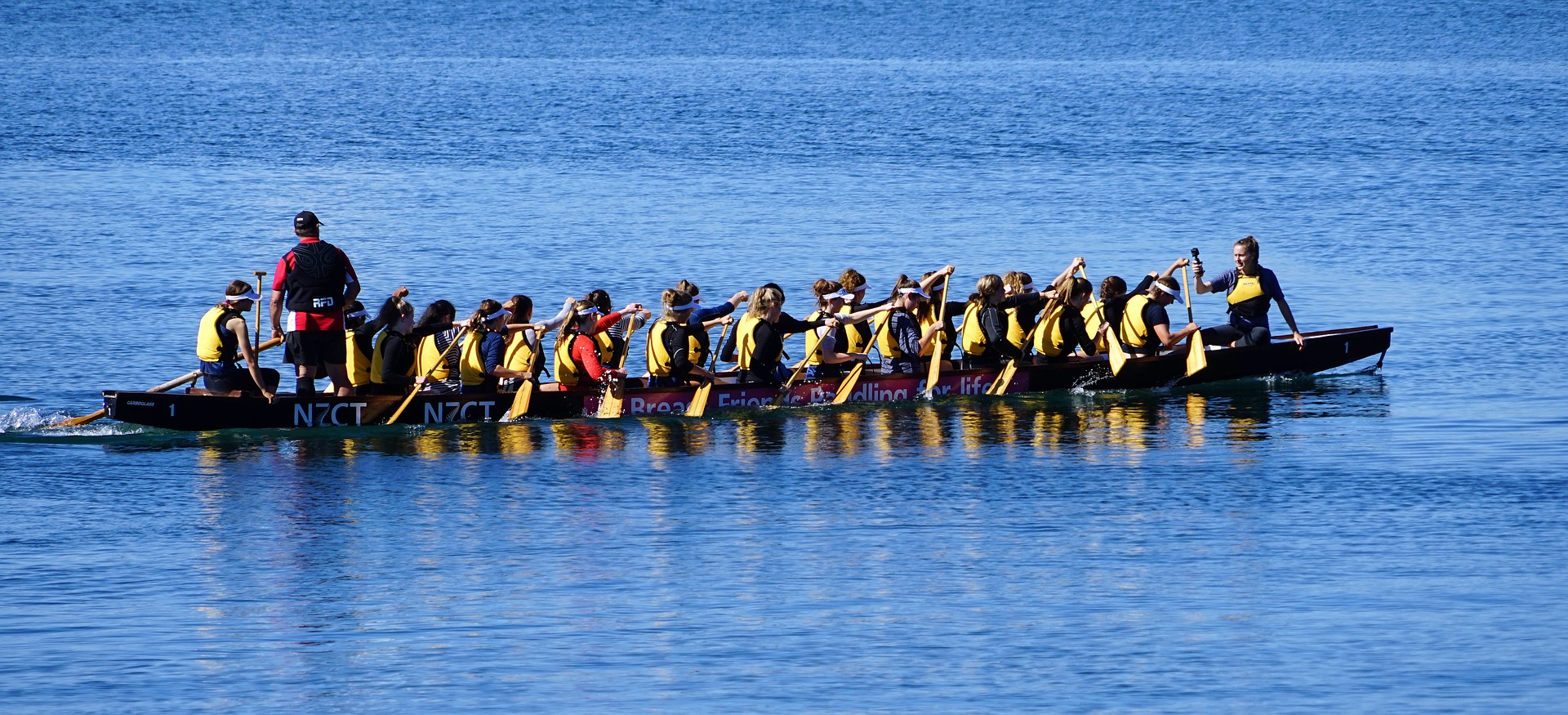 I had been training hard for dragon boat racing on and off the water for two years in preparation for national and international racing, and definitely had the mindset of "I don't have time for the pain" as the competitions got closer. Upon returning from our biggest competition in Italy, at my first day back at work as I pulled a sheet over a patient we had just assisted back to bed, I felt a sharp pain in my back and I could barely walk.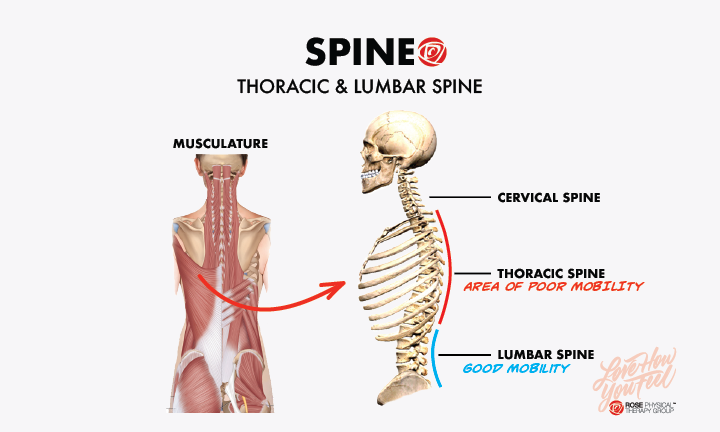 This was my entry into the world of being a physical therapy client. At that time, focusing all my care for patients in the hospital setting—which is very different from the type of care we provide at Rose--, it was a jolt when my physical therapist told me I had restrictions in my thoracic spine. These restrictions had increased stress in my lumbar spine, imagine my surprise. My lumbar spine was very limber, or in physical therapist terminology "super-mobile", given the amount of rotation and reach required in a paddling stroke. But I had allowed myself to become stiff in my thoracic spine.
I've learned a few things since then, as a client and as a therapist. Here are three exercises you can do to loosen up your thoracic spine:
"Peanut" exercises - move your body around the peanut by rotating your arms. You can reposition the peanut at different spots along your spine to help alleviate tightness or pain in those areas.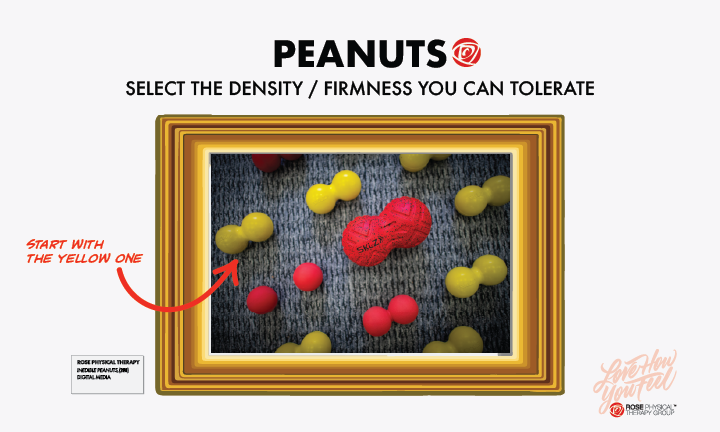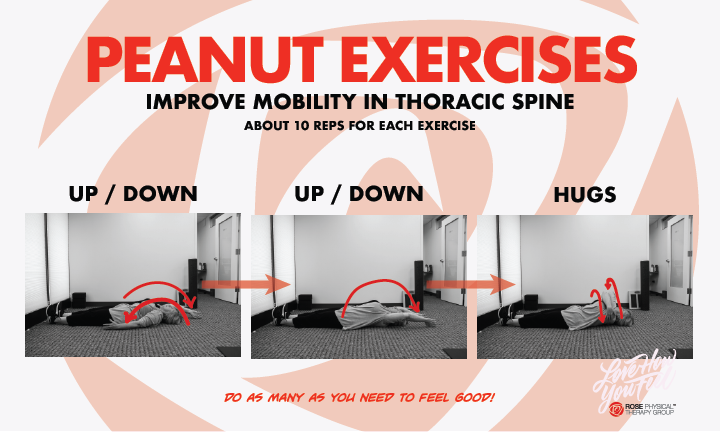 Extending your mid back over a foam roller - lie over the foam roller to stretch out your back. Roll back and forth to improve mobility.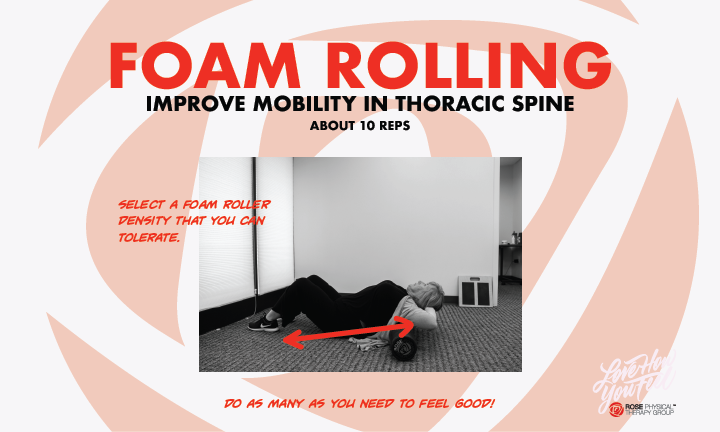 Rotation with a side bend and exhale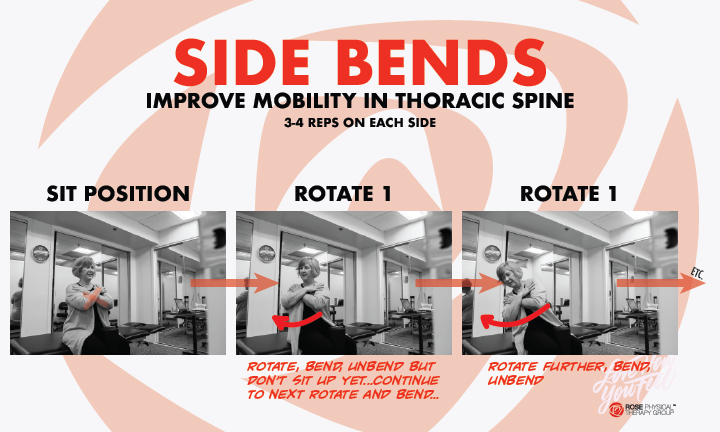 My take home message to fellow paddlers and anyone who wants to prevent low back pain, is this:
Don't ignore what your body is telling you in those twinges you want so desperately to ignore and go away. 
Think about what you are asking your body to do and if the mobility is there to achieve it. If there are restrictions, the forces have to go somewhere and its usually going to an area that isn't equipped to handle the job alone.
A physical therapist can really help to identify these restrictions and guide you to the correct exercises to help prevent and recover from injury.
You can always setup an appointment with a Rose Physical Therapist at either our downtown location near Dupont Circle or our Capitol Riverfront location near the Washington, DC Navy Yard. Me and my fellow therapists at Rose support many rowers in the community, ranging from Olympic hopefuls in the High Performance Group at the Potomac Boat Club to weekend warriors at the Capital Rowing Club, to competitive kayakers, to sail boat racers on the Potomac and Anacostia Rivers.
And of course, if you are not a rower but just tweaked your back picking up a pencil or something, a Rose Physical Therapist can help with that, too!