You are going to be spending a lot of time in your new physical therapist position, so you might as well have fun. It can be important to have a pleasant office environment, be friends with co-workers, and to just enjoy coming to work every day. On the other hand, maybe you are introverted and value keeping work separate from personal life. For these therapists, a larger hospital system might be more appropriate. But every practice is different and needs individual investigation via a few simple questions:
Who are your co-workers? Ask yourself during your interview, are these people I would want to hang out with on a daily basis?
How often do you have time to chat with coworkers?
Do therapists get together outside of work?
Does the office promote team social activities?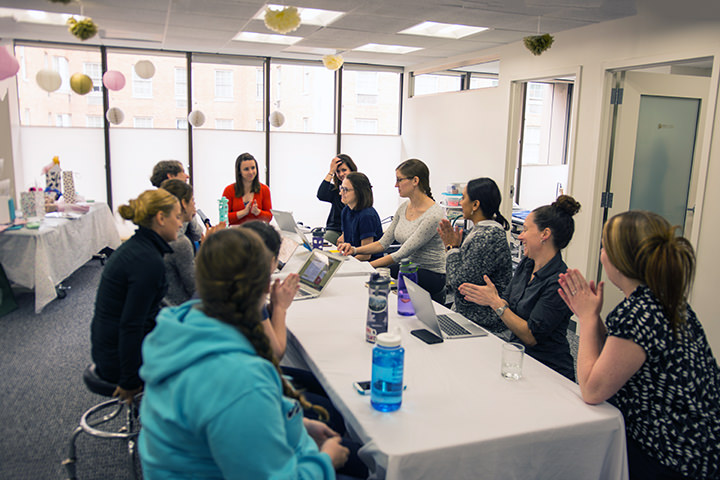 At Rose we work hard to promote a fun and interactive environment for our team:
We have weekly staff meetings with catered lunch provided by Rose. This allows our team to relax together. Often these team meetings involve celebrations or fun activities such as yoga class, meditation, celebrations of our team members, and the all-important planning of more fun activities.
Every year we have major fun outings, typically including a Washington Nationals baseball game, barbecues, or holiday celebrations.
Our team members often enjoy hanging out outside of work, doing things like triathlons, cycling or running races, or just going to happy hour together. Although we have a healthy mixture of personalities, our office culture that is a better fit for physical therapists with an outgoing personality.
Our offices feature a wide and ever changing selection of healthy, organic snacks, fruits and vegetables. We even have filtered waters on tap, including seltzer water like a high end coffee shop. And speaking of coffee, our offices all have Chemex and French press as well as commercial grade grinders for the coffees we order from fancy roasters. We also have instant hot water for coffee making, tea and hot cocoa.