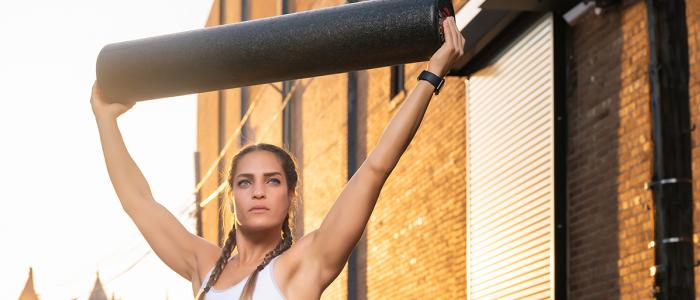 Frozen shoulder (know medically as adhesive capsulitis) is a painful and disabling disorder of unclear cause in which the shoulder capsule, the connective tissue surrounding the glenohumeral joint of the shoulder, becomes inflamed and stiff, greatly restricting motion and causing chronic pain. Pain is usually constant, worse at night, and with cold weather. Certain movements or bumps can provoke episodes of tremendous pain and cramping. The condition is thought to be caused by injury or trauma to the area and may have an autoimmune component.
What is Frozen Shoulder (Adhesive Capsulitis)?
Adhesive capsulitis is the stiffening of the shoulder due to scar tissue, which results in painful movement and loss of motion. The actual cause of adhesive capsulitis is a matter of debate. Some believe it is caused by inflammation, such as when the lining of a joint becomes inflamed (synovitis), or by autoimmune reactions, where the body launches an "attack" against its own substances and tissues. Other possible causes include:
Reactions after an injury or surgery
Pain from other conditions, such as arthritis, a rotator cuff tear, bursitis, or tendinitis, that has caused a person to stop moving the shoulder
Immobilization of the arm, such as in a sling, after surgery or fracture
Often, however, there is no clear reason why adhesive capsulitis develops.
Rose excels at working through the difficulties associated with frozen shoulder. The process can be arduous, but returning to normal function is a rewarding outcome for our patients.
How Does It Feel?
Most people with adhesive capsulitis have worsening pain and a loss of movement. Adhesive capsulitis can be broken down into 4 stages; your physical therapist can help determine what stage you are in. Often our clients at Rose decide to see a physical therapist once the condition is advanced, but we are adept at getting you back to action nevertheless. The amount of "freezing" determines the length of recovery, which can be slow.
Stage 1: "Prefreezing"
During stage 1 of its development, it may be difficult to identify your problem as adhesive capsulitis. You've had symptoms for 1 to 3 months, and they're getting worse. Movement of the shoulder causes pain. It usually aches when you're not using it, but the pain increases and becomes "sharp" with movement. You'll begin to limit shoulder motion during this period and protect the shoulder by using it less. The movement loss is most noticeable in "external rotation" (this is when you rotate your arm away from your body), but you might start to lose motion when you raise your arm or reach behind your back. Pain is the hallmark feature of this stage; you may experience pain during the day and at night.
Stage 2: "Freezing"
By this stage, you've had symptoms for 3 to 9 months, most likely with a progressive loss of shoulder movement and an increase in pain (especially at night). The shoulder still has some range of movement, but it is limited by both pain and stiffness.
Stage 3: "Frozen"
Your symptoms have persisted for 9 to 14 months, and you have a greatly decreased range of shoulder movement. During the early part of this stage, there is still a substantial amount of pain. Toward the end of this stage, however, pain decreases, with the pain usually occurring only when you move your shoulder as far you can move it.
Stage 4: "Thawing"
You've had symptoms for 12 to 15 months, and there is a decrease in pain, especially at night. You still have a limited range of movement, but your ability to complete your daily activities involving overhead motion is improving at a rapid rate.
How Can a Physical Therapist Help?
A Rose physical therapist's overall goal is to restore your movement, so you can perform your daily activities. Once the evaluation process has identified the stage of your condition, your physical therapist will create an individualized exercise program tailored to your specific needs. Exercise has been found to be most effective for those who are in stage 2 or higher. Your treatment may include:
Stages 1 and 2
Exercises and manual therapy. A Rose physical therapist will help you maintain as much range of motion as possible and will help reduce your pain. A Rose therapist may use a combination of range-of-motion exercises and manual therapy (hands-on) techniques to maintain shoulder movement.
Modalities. A Rose physical therapist may use heat and ice treatments (modalities) to help relax the muscles prior to other forms of treatment.
Home-exercise program. A Rose physical therapist will give you a gentle home-exercise program designed to help reduce your loss of motion. A Rose therapist will warn you that being overly aggressive with stretching in this stage may make your shoulder pain worse.
A Rose physical therapist will match your treatment activities and intensity to your symptoms, and educate you on the appropriate use of the affected arm. A Rose therapist will carefully monitor your progress to ensure a safe healing procedure is followed. 
Pain medication. Sometimes, conservative care cannot reduce the pain of adhesive capsulitis. In rare cases your physical therapist may consider anti-inflammatory and pain-relieving medication to allow you more comfort during your rehabilitation at Rose. 
Stage 3
The focus of treatment during phase 3 is on the return of motion. Treatment may include:
Stretching techniques. A Rose physical therapist may introduce more intense stretching techniques to encourage greater movement and flexibility.
Manual therapy. A Rose physical therapist may take your manual therapy to a higher level, encouraging the muscles and tissues to loosen up.
Strengthening exercises. You may begin strengthening exercises targeting the shoulder area as well as your core muscles. Your home-exercise program will change to include these exercises. At Rose we will try to design exercises that you can do in the comfort of you home or at work, without the need for a costly gym membership.
Stage 4
In the final stage, your physical therapist will focus on the return of "normal" shoulder body mechanics and your return to normal, everyday, pain-free activities. Your treatment may include:
Stretching techniques. The stretching techniques in this stage will be similar to previous ones you've learned, but will focus on the specific directions and positions that are limited for you. 
Manual therapy. A Rose physical therapist may perform manual therapy techniques in very specific positions and ranges that are problematic for you. Manual therapy will focus on eliminating the last of your limitations, moving the tissue adhesions around to get more movement and reduce pain.
Strength training. A Rose physical therapist will prescribe specific strengthening exercises related to any weakness that you may have to help you perform your work or recreational tasks. 
Return to work or sport. A Rose physical therapist will address movements and tasks that are required in your daily and recreational life.
At Rose Physical Therapy Group, we're here to help!
Rose Phsycial Therapy can help you at either our downtown location near Dupont Circle and Farragut Square, or our Navy Yard office located adjacent to Capitol Hill, right in the heart of Washington, DC. Treating frozen shoulder is something that any of our therapists can handle, go ahead and make an appointment as soon as you can to get you on the road to recovery.