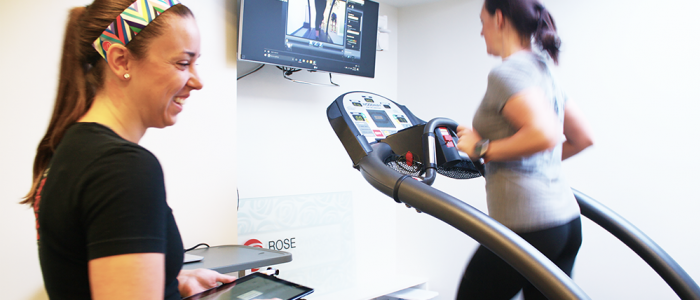 Related Medical Conditions:
Running analysis at Rose Physical Therapy Group is the best in the Washington DC metro area. We have taken all our unique, additional training and compiled a comprehensive system to helping runners be more efficient and remain injury free. 
Our running assessment is a one hour appointment with a licensed therapist. During this appointment we take a history and talk about your running goals.  We do a physical exam to assess muscular weaknesses and/or tightness.  We then do a video analysis from both a side and back view to assess the mechanics of your running form as well as cadence.  We spend time discussing your shoes and answering any questions you may have about footwear.  We also discuss cadence at your current level and if any changes might be indicated.
We take all of the data we collect from your history, physical exam, running form and shoes and put together a comprehensive exercise/stretch routine, plan for footwear and cadence.  You receive this write up via email within one week of your assessment.  Your write up will include screen shots from your video gait analysis.  Your write up will also include photos and/or videos of your prescribed exercise plan.  We will include all the information you need to make cadence changes if needed as well as make informed decisions about shoe purchases.  
What sets Rose Physical Therapy running assessments apart from the rest is our expertise in not just showing you what can be corrected, but designing a comprehensive, individualized plan for recovery and injury prevention. This is something we have developed in-house through experience. 
Running analysis at Rose PT is $300.  
Follow up running analysis that includes video analysis is $200.
Follow up appointments that do not include video analysis are $150.
Once you come in for a running assessment at Rose Physical Therapy Group we recommend you work with our recommendations for at least 6-8 weeks.  Our recommendation will always be to make slow measured steps rather than dramatic changes.  It takes time to build strength, mobility and alter cadence.  If you are interested in a follow up session, our follow up sessions that include video analysis are available. We can do a pre and post comparison to see where you are with strength/mobility/cadence etc.  If you are simply interested in a follow up appointment to progress your strength and mobility program we can do that too!  What you receive in the initial running assessment is the foundations of what you need.  If the exercises we give you get easy and you want more, we can definitely work with you to create more advanced steps based on your needs. 
Running analysis at Rose PT is designed to be a performance enhancement tool.  If you are experiencing an injury that is preventing you from running we recommend you schedule a physical therapy appointment and reserve the running analysis for after you are back to running!