Three physical therapy ergonoimcs tips for working at home are the elevate your computer on a riser, use an external keyboard and mouse, and to use lumbar support.
During the past year, many of us have transitioned to teleworking part-time, or simply working from home. Going from a beautiful Washington, DC area office to your kitchen table, or often to your couch or bed, can take a toll on your ergonomics and result in neck and back pain, and more.
Whether you stick with an impromptu Washington, DC home office or have a more professional one, if you're working from home for an extended period of time you will need to take ergonomics into account. Great ergonomics help you avoid having to come in for a physical therapy appointment. Although we're glad to help you out here at Rose Physical Therapy in downtown Washington, DC, this blog entry details just a few quick and basic tips on setting up an ergonomics workstation for yourself.
Three ergonomics tips for working from home:
Elevate your computer: keeping your screen closer to eye-level reduces the strain put on your neck. This can be difficult with a laptop so we recommend things like this adjustable laptop stand (insert link from Rose PT Store) or a couple of those old text books you might still have lying around.  Do people still have phone books?

Use an external key board/mouse: laptops are great for convenience but not for long term work. To have it set up in a good position for your neck you have to sacrifice arm/wrist positioning or vice-versa. An external keyboard/mouse can help you to combat this by allowing a neutral position for your arms while your computer is elevated on something else.

Use lumbar support: the chair at your dining room table probably isn't set up with a full day's work in mind. Having good lumbar support can make all the difference. You can use a specially designed cushion like these (insert links from store here) or you can try rolling up a hand towel and resting it in the small of your back.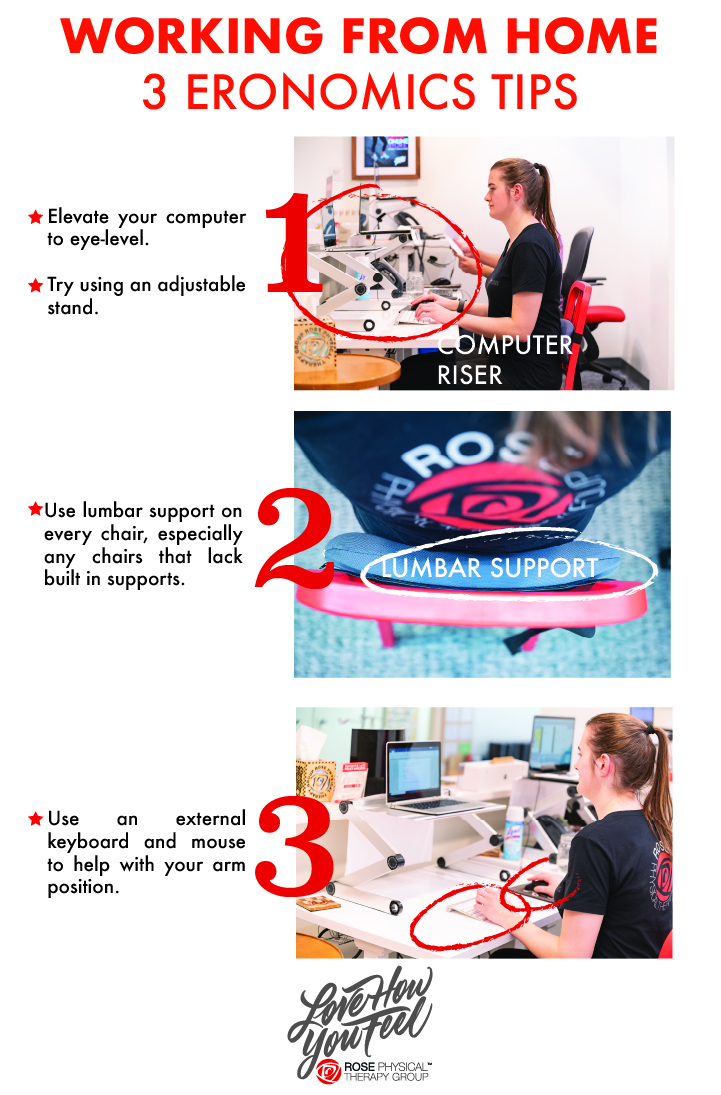 Note that we have links to purchase several different computer risers and lumbar supports in our online store here on the Rose Physical Therapy website.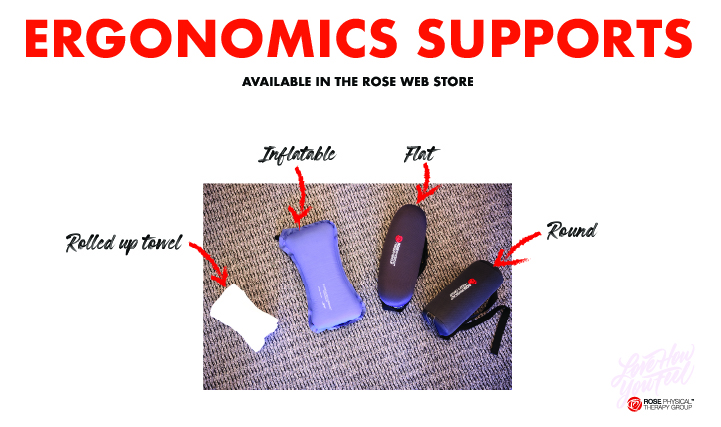 Rose Physical Therapy is here in Washington, DC to help!
If you have ergonomics questions, or maybe have back and neck pain, it may be time to give us a call to setup an appointment right away, or schedule through our website. Either our office in downtown Washington, DC between Dupont Circle and Farragut Square, or at our office in Navy Yard and Capitol Riverfront, just a few blocks from Capitol Hill has the best area physical therapists who are capable of getting you on the track to recovery. One on one appointments at Rose are one-hour with a physical therapist, never a technician. And Rose Physical Therapy in Washington, DC accepts most private health insurance so that the best physical therapy is also affordable for you based on your chosen insurance plan.