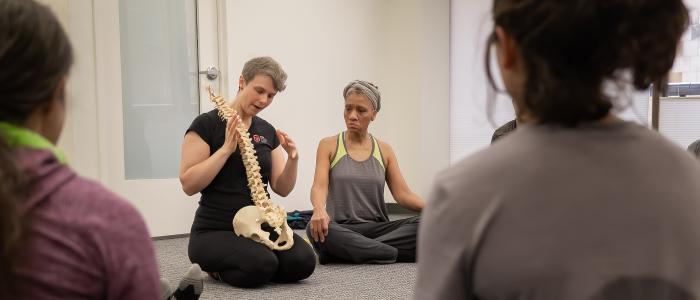 At Rose Physical Therapy, in Washington DC, our physical therapists teach clients a variety of techniques to improve their well being to help relieve neck pain. We work with you during our one on one treatment sessions to identify areas of need or concern, and then implement a plan of care that is specific and personalized to you. 
How Can a Physical Therapist Help?
Recent research has shown that physical therapy is a better treatment than surgery or pain medication (such as opioid medication) for relieving many cases of neck pain. Physical therapy treatments often can help people avoid the need for surgery or medication altogether.
Your physical therapist will work with you to design a specific treatment program that will speed your recovery, including exercises and treatments that you can do at home. Physical therapy can help you return to your normal lifestyle and activities.
Physical therapy can help reduce neck pain and restore function and movement through techniques such as designing specific exercises based on Graston, Trigger Point Dry Needling, Posture and Ergonomic assessment, McKenzie Mechanical Diagnosis and Therapy (MDT), Active Release Techniques (ART), and many other specialized and many other specialized treatments. Each physical therapist works one on one with you for an hour treatment each time in order to create a specific plan of care and treatments tailored to your needs.
Reduce pain and other symptoms. Your physical therapist will help you understand how to avoid or modify the activities that caused the injury, so healing can begin. He or she may use different types of treatments and technologies to control and reduce your pain and symptoms. These may include gentle hands-on techniques, known as manual therapy, that he or she will perform for you; specific neck movements that you will be taught to perform yourself; and the use of technologies, such as electrical stimulation or traction, as required. Physical therapists examine each person individually to determine exactly what type of approach will help reduce pain.
Avoid surgery. In most cases, a physical therapist can design an individualized treatment program to help relieve neck pain—even severe radiculopathy (pain that travels from the neck down into the arm or hand)—to help individuals with neck pain avoid surgery. In rare cases, radiculopathy requires surgery to relieve its cause.
Improve posture. If your physical therapist finds that poor posture has contributed to your neck pain, he or she will teach you how to improve your posture so healing can occur.
Improve motion. Your physical therapist will choose specific activities and treatments to help restore normal movement in any stiff joints. These might include "passive" motions that the physical therapist performs for you to move your spine, or active exercises and stretches that you do yourself. You can perform these motions at home, in your workplace, and before your sports activities to help hasten healing and pain relief.
Improve flexibility. Your physical therapist will determine if any of the involved muscles are tight, and teach you gentle stretching exercises that you can perform at home. He or she also may supervise your performance of special stretches during your physical therapy treatments.
Improve strength. If your physical therapist finds any weak or injured muscles, he or she will choose and teach you the correct exercises to gently restore your strength and agility. For neck pain, "core strengthening or stabilization" is commonly used to restore the strength and coordination of muscles around your spine.
Improve endurance. Restoring muscular endurance is important for people with neck pain. Your physical therapist will develop a program of activities to help you regain the endurance you had before the neck pain started.
Learn a home program. Your physical therapist will teach you strengthening, stretching, and pain-reduction exercises to perform at home. These exercises will be specific for your needs. If you do them as prescribed by your physical therapist, you can speed your recovery.
Return to Activities. Your physical therapist will discuss your activity levels with you and use them to set your work, sport, and home-life recovery goals. Your treatment program will help you reach your goals in the safest, fastest, and most effective way possible. For spine problems like neck pain, your physical therapist may teach you correct ways to lift objects (called "body mechanics") that will help protect your spine from further injury.
As your neck pain is improving, it will be important for you to continue your new posture and movement habits to keep your neck healthy and pain free.
Rose Physical Therapy is here in Washington, DC to help!
If you are experiencing pain or limited range of motion in your neckm schedule an appointment at either our office in downtown Washington, DC between Dupont Circle and Farragut Square, or at our office in Navy Yard and Capitol Riverfront, just a few blocks from Capitol Hill. Give us a call or schedule through our website and we'll get you on the road to recovery!